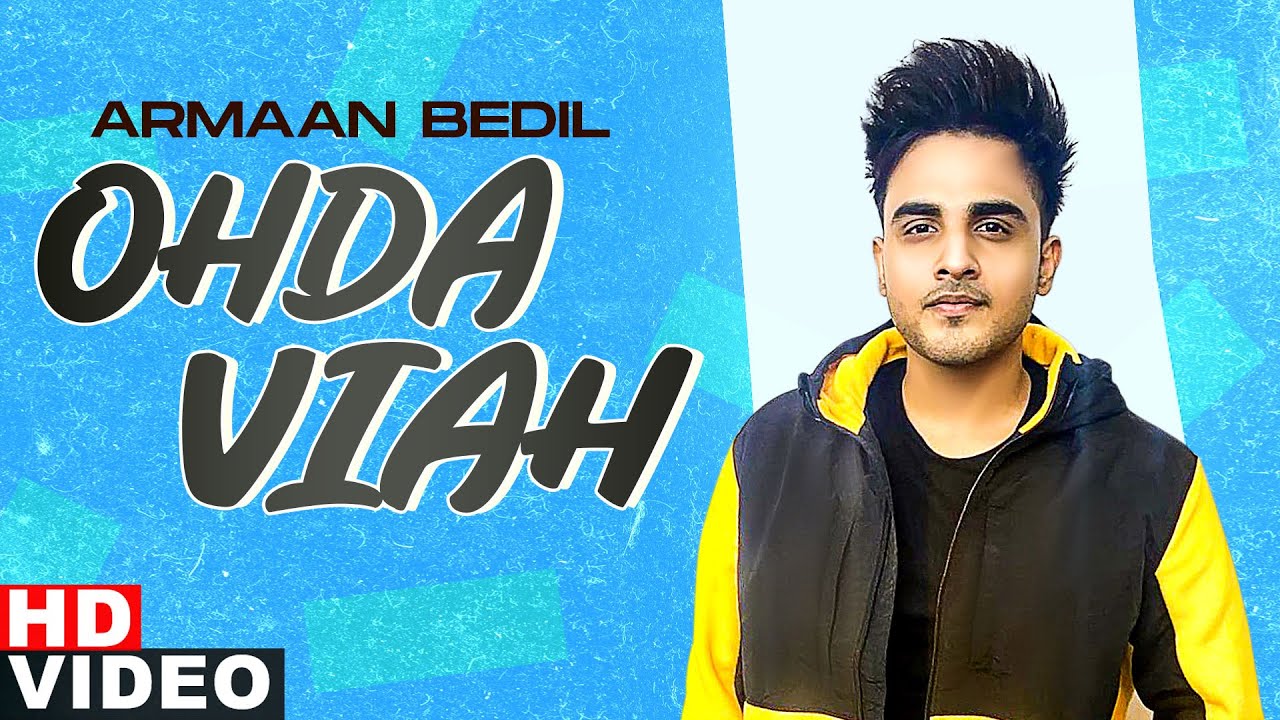 Ohda Viah Lyrics - Armaan Bedil Full Song Lyrics: This is the latest Punjabi Song starring
Armaan Bedil.
This song is sung by
Armaan Bedil
and the music of the song given by
Starboy Music X
while the lyrics of the song written by
Guri Malle Wala.
This song released on
Speed Records.
| | |
| --- | --- |
| Song Title : | Ohda Viah |
| Singer : | Armaan Bedil |
| Music : | Starboy Music X |
| Lyrics : | Guri Malle Wala |
| Starring : | Armaan Bedil |
| Music Label : | Speed Records |
Ae Geet Nahi Ik Kahani Ae Jinnu Sirf Te Sirf Mehsus Kitta Ja Sakda Hai Aeh Khed Haan Sab Taqdira Di Na Ranjhe De Na Heera Di
Aeh Khed Haan Sab Taqdira Di Na Ranjhe De Na Heera Di
Ghute Aa Hai Majburi Mera Saanh Wekheya Main Aakh Da Si Main Laiy Ju Jih Nu Baanh Phad Ke
Aaj Ankha Muhre Hunda Ohda Viah Wekheya Main…
C Hathyar Vi Kol Mere Par Challe Ni Metho Ek Round Naal Char Phere Gaye Thalle Ni Metho
Bebas Hoi Kamli Ankha Bhar Bhar Behndi Rahi Kadh Saki Na Dil Apne Cho Haan Vekheya Main Aakh Da Si Main Laiy Ju Jih Nu Baanh Phad Ke Aaj Ankha Muhre
Aaj Ankha Muhre Hunda Ohda Viah Wekheya Main Aaj Ankha Muhre Hunda Ohda Viah Wekheya Main
Pyaar Mere Da Dard Ohde Kol Rehnda C Jehda Viyah Di Mundri Ne Rabata Challa Oye Mera Photo Meri Nu Wekh Kehndi Hoyu Le Janda Adde Aa Aaya Kyo Na Chaq-Chaq Addiyan Raah Wekheya Main Haye Aakh Da Si Main Laiy Ju Jih Nu Baanh Phad Ke
Aaj Ankha Muhre Hunda Ohda Viah Wekheya Main Aaj Ankha Muhre Hunda Ohda Viyah Wekheya Main
Maafi Mang Ke Kar Na Sakk Aa Mout Umeeda Di Ghar Di Rani Rani Banke Reh Gayi Geeta Di
Waje Khane Kol Guri Da Pind Ae Malla Jo Jithe Oh De Naal Vasan Da Chah Vekheya Main Haye Aakh Da Si Main Laiy Ju Jih Nu Baanh Phad Ke
Aaj Ankha Muhre Hunda Ohda Viyah Wekheya Main Aaj Ankha Muhre Hunda Ohda Viyah Wekheya Main
Ohda Viah Video

If You Find any mistake you can comment us below and also comment your thought about this song.#lyricworld