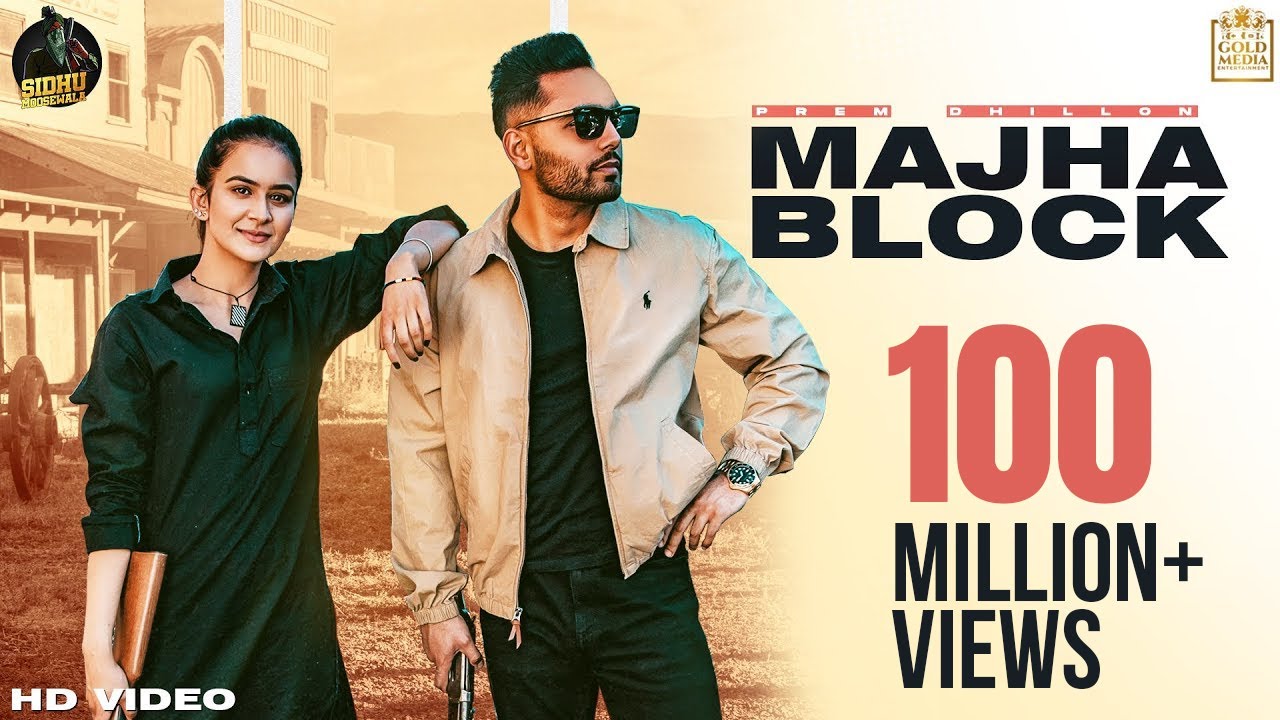 Majha Block Lyrics - Prem Dhillon Full Song Lyrics : This is the latest Punjabi Song starring
Roopi Gill.
This song is sung by
Prem Dhillon
and the music of the song given by San B while the lyrics of the song written by
Prem Dhillon.
This song released on
Sidhu Moose Wala.
| | |
| --- | --- |
| Song Title : | Majha Block |
| Singer : | Prem Dhillon |
| Music : | San B |
| Lyrics : | Prem Dhillon |
| Starring : | Roopi Gill |
| Music Label : | Sidhu Moose Wala |
Oh Nikal Bahar Vekh Sadkan Te Kaun Ni
Machri Mandeer Nu Aa Nath Paave Kaun Ni
Kayi Aa Akke Vicho Firde Kayi Dakke Aa
Ehna Di Aish Agge Bakiyan Di Down Ni
Kooni Ton Sunida Aa Maade Munde Majhe De
Kooni Ton Sunida Aa Maade Munde Majhe De
Vere Je Jhatt Vich Dhar Dinde Mor Ni
Mor Ni Kadh Tyme Vekhne Je Yaar Ni
Yaar Ni Street'an Utte Jattan Diyan Taur Ni
Taur Ni Kadh Tyme Vekhne Je Yaar Ni
Yaar Ni Street'an Utte Jattan Diyan Taur Ni
Jutti Vauhne Nu Vi Tez Ni
Dhillon Da Bibi'an Ch Full Aa Craze Ni
Gall Gall Utte Gaal Kadni Aa Lazmi
Beh*** Da Aa Common Phrase Ni
Laame Te Maame Ghare Aunde By Weekly
Laame Te Maame Ghare Aunde By Weekly
Wajje Lalkara Dhak Paindi Aa Ke Lorr Ni
Lorr Ni Kadh Tyme Vekhne Je Yaar Ni
Yaar Ni Street'an Utte Jattan Diyan Taur Ni
Taur Ni Kadh Tyme Vekhne Je Yaar Ni
Yaar Ni Street'an Utte Jattan Diyan Taur Ni
Kali Da Vail Koi Hor Naa Drug Ni
Vekhne Kolon Vekhi Zoom Kar Photo'an Ch
Durron Aa Gang Sign Karde Na Hug Ni
Pau Pechan Kehda Hath Aan Pau Ni
Pau Pechan Kehda Hath Aan Pau Ni
Kaud Ni Kadh Tyme Vekhne Je Yaar Ni
Yaar Ni Street'an Utte Jattan Diyan Taur Ni
Taur Ni Kadh Tyme Vekhne Je Yaar Ni
Yaar Ni Street'an Utte Jattan Diyan Taur Ni
Aw Shama Nu Lage Din Hunde Breakup Ni
Rehnde Aa Pub'an Utte Rakhide Da Cup Ni
Kaali Aa Sade Naal Coffee Utte Ban Nu
Zali Naa Jaani Sare Gucci Aale Sanp Ni
Aavey Naa Raas Jaggo Wakhri Class Ni
Aavey Naa Raas Jaggo Wakhri Class Ni
Rehnde Jo Piche Piche Jani Naa Oh Bhor Ni
Bhor Ni Kadh Tyme Vekhne Je Yaar Ni
Yaar Ni Street'an Utte Jattan Diyan Taur Ni
Taur Ni Majhe Aaleya Da Chale Daur Ni
Daur Ni Kadh Tyme Vekhne Je Yaar Ni
Taur Ni Majhe Aaleya Da Chale
Taur Ni Majhe Aaleya Da Chale
Kayi Khende Aa Ni Jaan Ke
Chola Sab Sunide Aa Chobar De Naanke
Aunde Aa Chittar De Or Kayi Soot Ni
Rakhna Rupiya Jinhe Rakhe Sanu Aanke
Koi Naa Shaq Saada Chalda Ae Luck Ni
Koi Naa Shaq Saada Chalda Ae Luck Ni
Lokka De Tukke Saade Hunde Sure Sure Ni
Sure Ni Kadh Tyme Vekhne Je Yaar Ni
Yaar Ni Street'an Utte Jattan Diyan Taur Ni
Taur Ni Kadh Tyme Vekhne Je Yaar Ni
Yaar Ni Street'an Utte Jattan Diyan Taur Ni
Majha Block Video

If You Find any mistake you can comment us below and also comment your thought about this song.#lyricworld