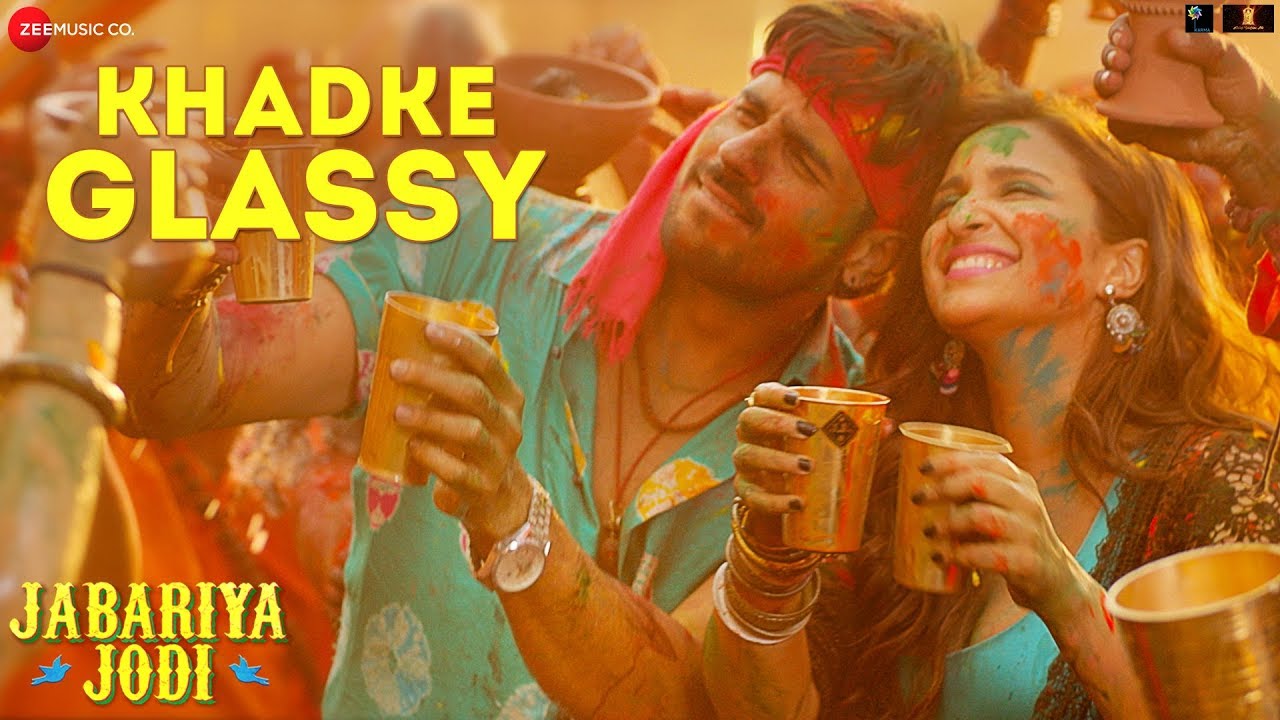 Khadke Glassy Lyrics - Jabariya Jodi Full Song Lyrics : This is the latest Hindi Song from the Film Jabriya Jodi.

This song is sung by

Yo Yo Honey Singh, Ashok Mastie,

Jyotica Tangri

and the music of the song given by

Tanishk Bagchi while the lyrics of the song written by Tanishk Bagchi, Channi Rakhala. This song released on Zee Music Company.
Song Title :

Khadke Glassy

Singer :

Yo Yo Honey Singh, Ashok Mastie,

Jyotica Tangri

Music :

Tanishk Bagchi

Lyrics :

Tanishk Bagchi, Channi Rakhala

Film :

Jabariya Jodi

Music Label :

Zee Music Company
Thekeyan te nitt khadke ho Thekeyan te nitt khadke Khadke glassi tere naa de Yes He iss back again From all the wayy Make you crunk again Any another day We can spin your brain Into another brain This is Mastie With your boy Honey Singhhhh Palkon pe tainu ae bithayi phirde Tattoo tere naam da karayi phirde Aaha! Palkon pe tainu ae bithayi phirde Tattoo tere naam da karayi phirde Mere pichhe lakhan udaayi phirde Photo meri wall pe lagayi phirde Mere pichhe lakhan udaayi phirde Photo meri wall pe lagayi phirde Mundet saare pichhe ghumde Mar na jayein lad-lad ke Thekeyan te nitt khadke Khadke glassi tere naa de x (2) Thekeyan te nitt khadke Khadke glassi mere naa de x (2) Saare bane phirde hain hakdaar ni Jaane kaun karda hai mainu pyar ni Saare bane phirde hain hakdaar ni Jaane kaun karda hai mainu pyar ni Seene vich dil dhadke sohniye Seene vich dil dhadke Vekh vekh tainu bas tadpe Thekeyan te nitt khadke Khadke glassi tere naa de x (2) Yes, iss back again Make you crunk again We can spin your brain Break it down like this Tu hai meri, main hoon tera haan keh de Dil kya hai baby meri jaan lele Mauka ik baari mainu haan dede Ya to tere jaise koyi la dede Par yeh to mumkin hi nahi sohneya Yeh to mumkin hi nahi Ki meri jaisi koyi mil jaave Thekeyan te nitt khadke Khadke glassi mere naa de x (2) Thekeyan te nitt khadke Khadke glassi tere naa de x (2)
Khadke Glassy Video