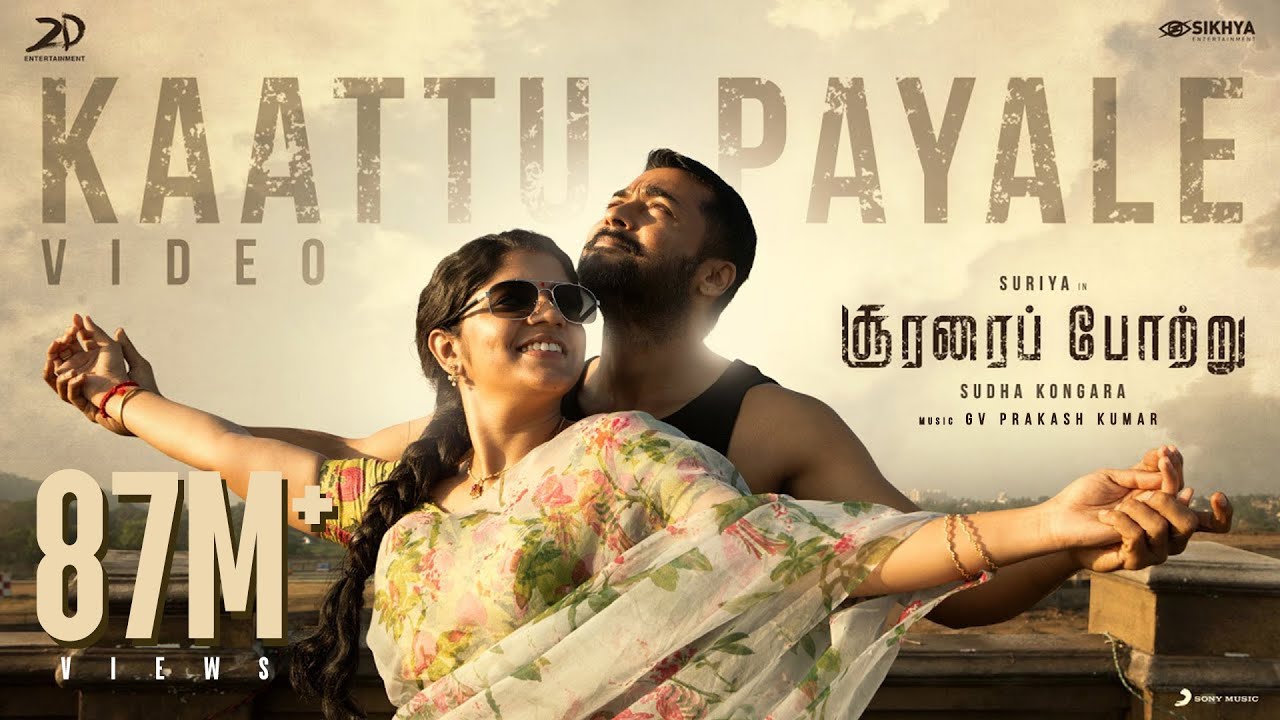 Kaattu Payale Lyrics - Soorarai Pottru Full Song Lyrics : This is the latest Hindi Song starring
Suriya, Aparna Balamurali, Dr.M Mohan Babu, Paresh Rawal, Urvashi, Karunas, Vivek prasanna, Krishna kumar, Kaali venkat.
This song is sung by
Dhee
and the music of the song given by GV Prakash Kumar while the lyrics of the song written by
Snehan.
This song released on
Sony Music South.
| | |
| --- | --- |
| Song Title : | Kaattu Payale |
| Singer : | Dhee |
| Music : | GV Prakash Kumar |
| Lyrics : | Snehan |
| Starring : | Suriya, Aparna Balamurali, Dr.M Mohan Babu |
| Music Label : | Sony Music |
La layi layi re layi re La layi layi re layi re La layi layi re layi re layi La layi layi re layi re Kaattu payale konji poda Ennae oru kaa nee Murattu muyala thooki poga Vantha paya daa nee Karattuk kaadaa kedantha Enna thirutu muzhikara Thoratti pottu izhukkuradaa nee Thiruttu poona pola Enna uruti uruti parthu Suratta paamba aakkiputta nee En mundhiyila sorugi vecha Sillaraya pola nee Idupu madippil ennanamo Senjiputtu pora nee Paarangalla iruntha enna Panji pola aakkiputta Enna vitha vechiruka nee Yaana passi Naan unakku Yaana passi Sola pori Nee enakku sola pori La layi layi re layi re layi La layi layi re layi re La layi layi re layi re layi La layi layi re layi re Paasathaala enna neeyum Pathara vaikkura Paththikkittu eriyum enna Paathu nikkura Jigaruthandaa paarvayaala Kulira vaikkura Thooram ninnae en manasa Maeya vaikkura Naan velanji nikkum pombala Vekkam kettu nikkuraen Uchchi kotta vaikkuriyae vaada Nee echchi oora vaikkura En udamba thaikkura Edhukku thalli nikkura vaada Naan saamaththula muzhikkuren Saarapaambaa neliyuran muzhikkuren Enna senja enna nee konjam solludaa Un murattu aasa enakkuthaan Athuvam theriyum unakkuthaan Enna seiyya unna Thinnu theekka poran Konjam konjamaaga Konji kolla poran Veecharuvaa illamaale vetti saaikkura Velukambu vaarthaiyaala kuththi kilikkura Soothanamaa anga inga killi vaikkura Soosagamaa aasayellam solli vaikkura Nee thottu paesu sikkuram Vittu pogum en juram Vetti kadha paesa vaena vaada Naan olappaaya virikkuran Unakku virunthu vaikkuran Muzhusaa enna thinuputtu podaa Nee ethuku thayangi nikkura Enna othukki vaikkura Summaa murandu pudikkura Katti alludaa Un murattu thimiru enakkuthaan Athuvum theriyum unakkuthaan Poththi vachcha aasa Aaponcuthadaa ulayaa Poththukittu ooththa Aapoguthadaa mazhayaa La layi layi re layi re La layi layi re layi re La layi layi re layi re layi La layi layi re layi re
Kaattu Payale Video

If You Find any mistake you can comment us below and also comment your thought about this song.#lyricworld