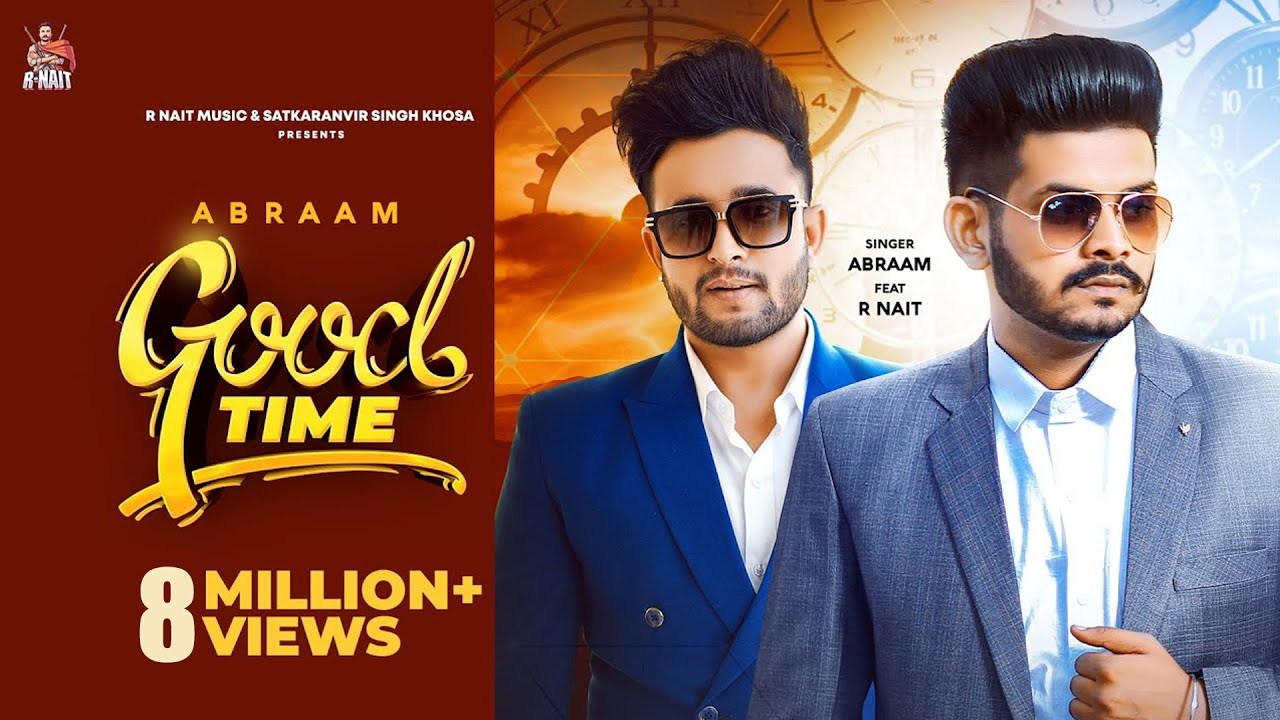 Good Time Lyrics - R Nait Full Song Lyrics : This is the latest Hindi Song starring
SWATI SHARMA , TINU MUNG, BOB JAANRASTA.
This song is sung by
ABRAAM
and the music of the song given by MR RUBAL while the lyrics of the song written by
R NAIT.
This song released on
R NAIT.
| | |
| --- | --- |
| Song Title : | Good Time |
| Singer : | ABRAAM |
| Music : | MR RUBAL |
| Lyrics : | R NAIT |
| Starring : | SWATI SHARMA , TINU MUNG, BOB JAANRASTA |
| Music Label : | R NAIT |
Mr. Rubal In The House! Ho Disda Ae Sir Mera Disde Na Pair Ni Main Kinne Gaahe Pind Billo Kinne Gaahe Shehar Ni Ho Disda Ae Sir Mera Disde Na Pair Ni Main Kinne Gaahe Pind Billo Kinne Gaahe Shehar Ni Ho Yaaran Di Si Pahunch Vichon Bhar Chalda Lagdi Hundi Si Boli Tere Pyaar Te Kootti Ae Rakaane Toohi Maahde Time Di Ni Changa Time Saukhan Kithon Aaya Yaar Te Kootti Ae Rakaane Toohi Maahde Time Di Ni Changa Time Saukhan Kithon Aaya Yaar Te Ho Doobde Nu Kare Na Kalama Duniya Chadh De Nu Kardi Salama Duniya Jadon Lanka Daha Jaande Behdi Ghar De Ohdon Veere Lagdi Drama Duniya Jadon Lanka Dahaa Jaande Behdi Ghar De Ohdon Veere Lagdi Drama Duniya Ho Teri Vi Samajh Nahiyo Aayi Patlo Tu Mere Utte Mare Ya Fer Jaguar Te Kootti Ae Rakaane Toohi Maahde Time Di Ni Changa Time Saukhan Kithon Aaya Yaar Te Kootti Ae Rakaane Toohi Maahde Time Di Ni Changa Time Saukhan Kithon Aaya Yaar Te Ho Name Hunda Kise Da Blame Tere Yaar Te Ni Har Beri Kahton Paindi Game Tere Yaar Te Aes Baari Fer Hoya Same Tere Yaar Te Ni Hunde Hunde Bache Ae Claim Tere Yaar Te Ho Dull Dull Paindi Unjh Fame Tere Yaar Te Rab Jane Kiven Bullan Utte Chup Dhari Main Kaddhi Deputy Bina Gallon Gaal Jari Main Billo Nimrata Meri Nimrata Meri Billo Nimrata Meri Oye Gharon 2011 Toh Faraar Hoya Main Na Ke Raaton Raat Sohniye Star Hoya Main Oh Bapu Diyan Nazaran De Vich Mithiye 100 Vaari Kanjar Nachar Hoya Main Bapu Diyan Nazaran De Vich Mithiye 100 Vaari Kanjar Nachar Hoya Main Halle Shuruwaat Billo R Nait Di Vekheya Karengi Har Akhbaar Te Kootti Ae Rakaane Toohi Maahde Time Di Ni Changa Time Saukhan Kithon Aaya Yaar Te Kootti Ae Rakaane Toohi Maahde Time Di Ni Changa Time Saukhan Kithon Aaya Yaar Te
Good Time Video

If You Find any mistake you can comment us below and also comment your thought about this song.#lyricworld