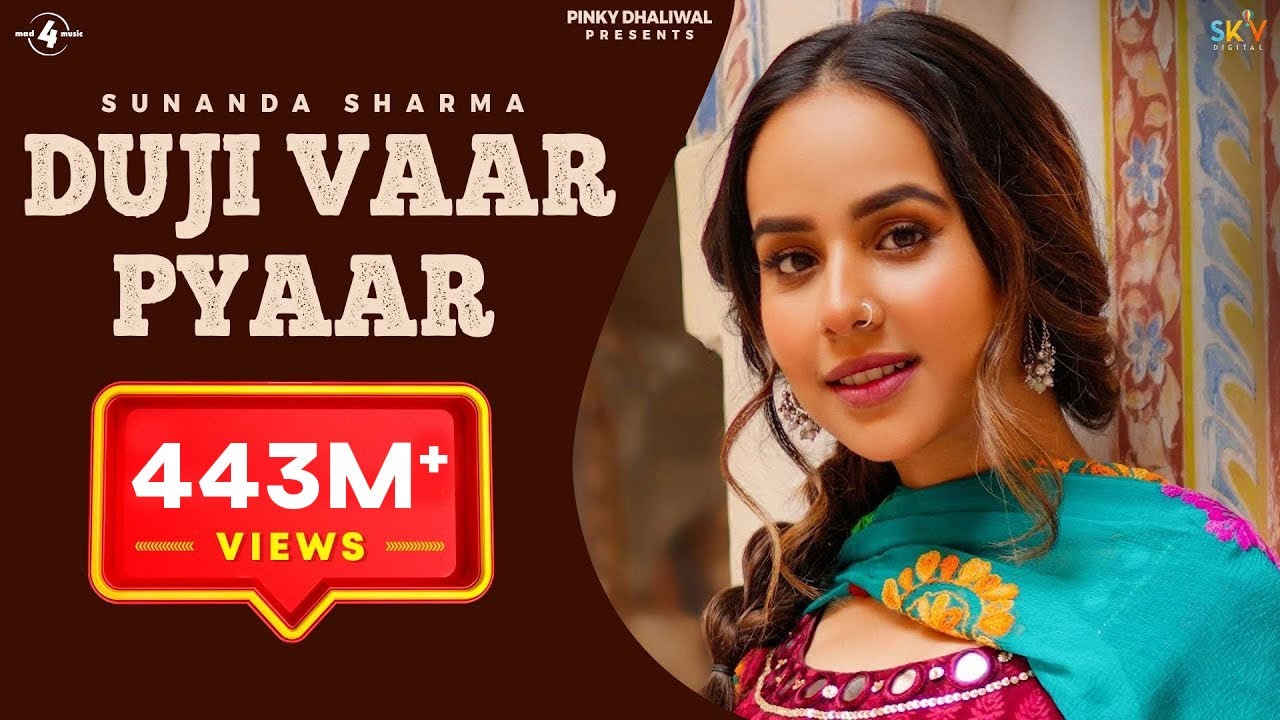 Duji Vaar Pyar Lyrics - Sunanda Sharma Full Song Lyrics : This is the latest Hindi Song starring
Vicky Gautam.
This song is sung by
Sunanda Sharma
and the music of the song given by
Sukh E
while the lyrics of the song written by
Jaani .
This song released on
Mad 4 Music.
| | |
| --- | --- |
| Song Title : | Duji Vaar Pyar |
| Singer : | Sunanda Sharma |
| Music : | Sukh E |
| Lyrics : | Jaani |
| Starring : | Vicky Gautam |
| Music Label : | Mad 4 Music |
Oh Mera Pehla Pyar Tu C Tu Eh Janda Sanu Kathyan Nu Hoge Kine Saal X(2) Mainu Duji Vari Pyar Hoeya Sohneya
Duji Vaar Vi Hoeya Ae Tere Naal X(2) Haye Ve Duji Vaar Vi Hoeya Ae Tere Naal x (2) Main Kise Hor Wal wekha Dil Kare Na Kise Hor Wal wekha Dil Kare Na Hath Mera Hor koi Hath Fade Na X(2)
Gallan Meriyan Hi Chak Gaane Likhda Loki Kehnde "Jaani" Likhda Kamaal Mainu Duji Vari Pyar Hoeya Sohneya Duji Vaar Vi Hoeya Ae Tere Naal X(2) Mein Tainu Supne Ch Vi Ni Chad Sakdi Meitho Maar Ke Vi Hona Nhi Eh Paap Ve Je Pta Karna Main Pyar kina Ka rdi Tu Samundra Nu jake Layi Naap Ve X(2)
"Besuri" Tere Bina Meri Zindgi Na Koi Lai Ae Te Na Koi Taal Mainu Duji Vari Pyar Hoeya Sohneya Duji Vaar Vi Hoeya Ae Tere Naal X(2) Tera Naa Main Likhya Meri Baah Te Mere Kamre Ch Teri Tasvir Ve X(2) Tere Layi Mein Duawan Eda Mangdi Mere Kolo Pareshan Hogye Peer Ve X(2)
Jado Hunda Tu Naraz Channa Mereya Asi Hathan Utte Dive Laiye Baal Mainu Duji Vari Pyar Hoeya Sohneya Duji Vaar Vi Hoeya Ae Tere Naal X(2)
Duji Vaar Pyar Video

If You Find any mistake you can comment us below and also comment your thought about this song.#lyricworld