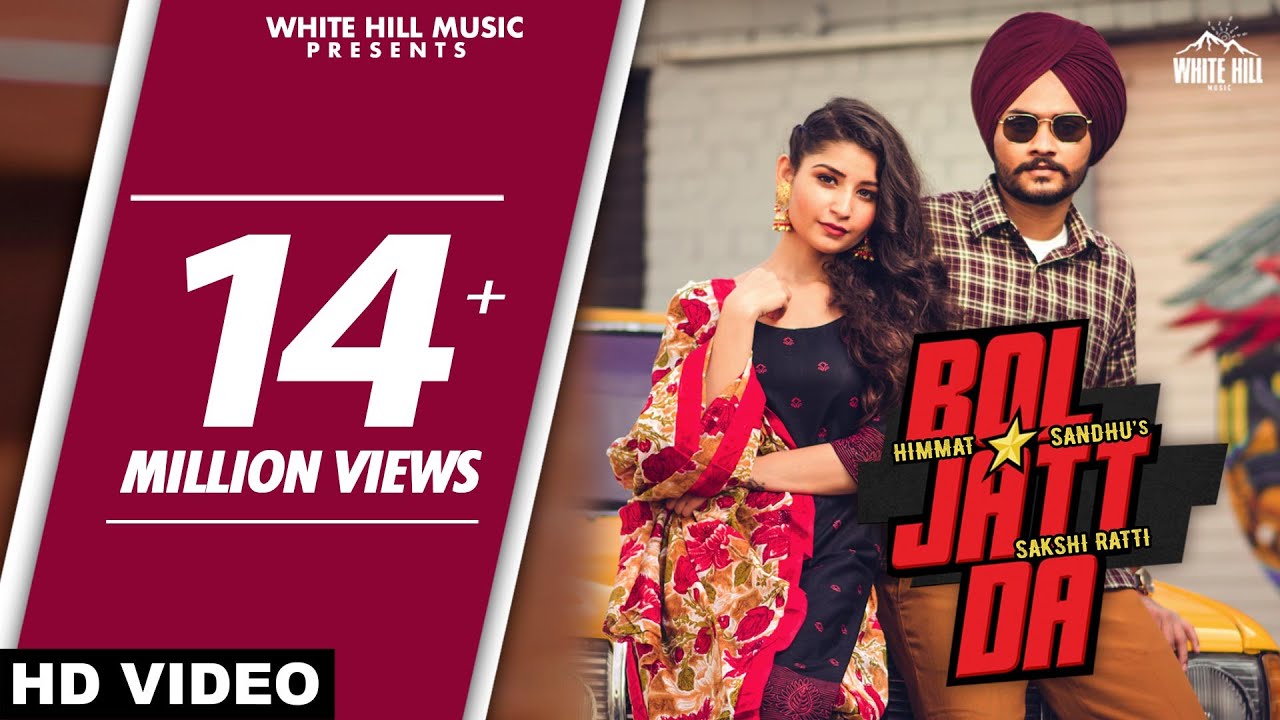 Bol Jatt Da Lyrics - Himmat Sandhu Full Song Lyrics : This is the latest Hindi Song starring
Himmat Sandhu.
This song is sung by
Himmat Sandhu & Sakshi Ratti
and the music of the song given by Pargat Ghumaan while the lyrics of the song written by
Sarab Ghumaan.
This song released on
White Hill Music.
| | |
| --- | --- |
| Song Title : | Bol Jatt Da |
| Singer : | Himmat Sandhu & Sakshi Ratti |
| Music : | Pargat Ghumaan |
| Lyrics : | Sarab Ghumaan |
| Starring : | Himmat Sandhu |
| Music Label : | White Hill Music |
Galti Na Hoje Kitte Haan Taan Khushi De Vich Fire Karde Kudi Aakdaan Naal Karde Je Na Taan Umar Bhar Vair Karde Galti Na Hoje Kitte Haan Taan Khushi De Vich Fire Karde Kudi Aakdaan Naal Karde Je Na Taan Umar Bhar Vair Karde Kabbe Je Subaah De Tussi Jatt Ho Bhale Mufatt Ho Main Ise Gallon Rehdi Darrdi Naale Tere Ego Aali Gaddi Speed Nitt Jaave Phadd Di Taan Hi Kardi Vi Hovaan Tainu Pyar Chobran Main Kade Show Ni Kardi Kardi Vi Hovaan Tainu Pyar Chobran Main Kade Show Ni Kardi Oh Asle Da Aunda Jivein Moh Ni Tera Vi Ohven Moh Kari Da Rahe Jehdeyan Kamma Ch Chitt Raazi Ni Kamm Bas Oh Kari Da Oh Asle Da Aunda Jivein Moh Ni Tera Vi Ohven Moh Kari Da Rahe Jehdeyan Kamma Ch Chitt Raazi Ni Kamm Bas Oh Kari Da Ni Tu Kehdiyan Gallan De Vich Pai Gayi Ladayi Laike Beh Gayi Banave Kyun Troll Jatt Da Hunda Patthar Vajji Hoyi Lakeer Warga Ni Har Bol Jatt Da Dekh Teri Tasveer Bina Labhna Ni Kakh Dil Khol Jatt Da Dekh Teri Tasveer Bina Labhna Ni Kakh Dil Khol Jatt Da Afeem Khaye Bina Ankh Nahiyo Kholde Kauda Rahon Bolde Ki Laake Karni Yaarian Dekh Marda Ubaale Sadda Khoon Ni Chadheya Junoon Ni Chaah Maarde Udaariyan Afeem Khaye Bina Ankh Nahiyo Kholde Kauda Rahon Bolde Ki Laake Karni Yaarian Dekh Marda Ubaale Sadda Khoon Ni Chadheya Junoon Ni Chaah Maarde Udaariyan Jo 3 Peedhiyan Ton Challe Sarpanchi Ve Jaave Tere Sir Chadh Di Taan Hi Kardi Vi Hovaan Tainu Pyar Chobran Main Kade Show Ni Kardi Kardi Vi Hovaan Tainu Pyar Chobran Main Kade Show Ni Kardi Khan Peen Da Taan Baneya Trend Ni Main Karda Defend Ni Mehnatan Vi Jari Ne Sirron 7 Band Wali Kudi Labhde Lohe De Chane Chabhde Kayi Maar Gaye Udaari Ne Khan Peen Da Taan Baneya Trend Ni Main Karda Defend Ni Mehnatan Vi Jari Ne Sirron 7 Band Wali Kudi Labhde Lohe De Chane Chabhde Kayi Maar Gaye Udaari Ne Oh Tu Ethe America Vekhi Bannda Ni Ikko Ek Goal Jatt Da Dekh Teri Tasveer Bina Labhna Ni Kakh Dil Khol Jatt Da Taan Hi Kardi Vi Hovaan Tainu Pyar Chobran Main Kade Show Ni Kardi Dekh Teri Tasveer Bina Labhna Ni Kakh Dil Khol Jatt Da
Bol Jatt Da Video

If You Find any mistake you can comment us below and also comment your thought about this song.#lyricworld