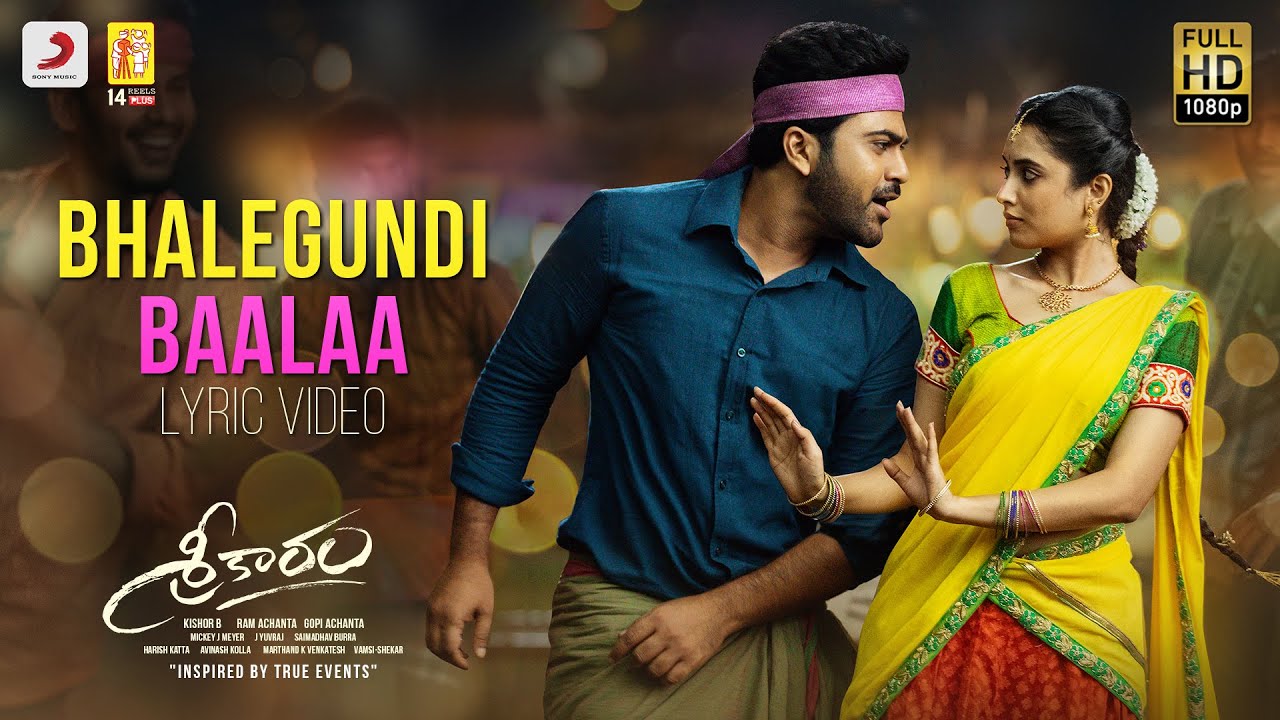 KHONA HAI Lyrics - Emiway Bantai Full Song Lyrics: This is the latest H Song starring
Sharwanand, Priyanka Arul Mohan, Rao Ramesh, Amani, Sr Naresh, Sai Kumar, Murali .
This song is sung by
Penchal Das
and the music of the song given by
Mickey J Mayer
while the lyrics of the song written by
Penchal Das.
This song released on
Sony Music South.
| | |
| --- | --- |
| Song Title : | Bhalegundi Baalaa |
| Singer : | Penchal Das |
| Music : | Mickey J Mayer |
| Lyrics : | Penchal Das |
| Starring : | Sharwanand, Priyanka Arul Mohan, Rao Ramesh, Amani, Sr Naresh, Sai Kumar, Murali |
| Music Label : | Sony Music India |
Vachaanantivo potaanantivo
Vagalu palukutaave
Vachhaanantivo potaanantivo
Vagalu palukutaave
Katminda haan kataminda
Valle kataminda vaiye alkalsilka
Balegundi bala
Daani edhaana
Ha daani edhaana
Ha daani edhaana vunde
Poola poola raika bhalegundi baalaa
[MUSIC]
Vachaanantivo potaanantivo
Vagalu palukutaave
Vachhaanantivo potaanantivo
Vagalu palukutaave
Katminda haan kataminda
Valle kataminda vaiye alkalsilka
Bhalegundi baalaa
Daani edhaana
Ha daani edhaana
Ha daani edhaana vunde
Poola poola raika bhalegundi baalaa
Arre re re re re
Naari naari vayyaari sundaree
Navvu magumudaana
Naari naari vayyaari sundaree
Navvu magumudaana
Ni navvomakam
Ni navvomakam
Ni navvomakammil angnachi alka
Bhalegundi baalaa
Ni navvomakammil angnachi alka
Balegundi baalaa
Vachhaanantivo potaanantivo
Vagalu palukutaave
Katminda haan kataminda
Valle kataminda vaiye alkalsilka
Bhalegundi baalaa
Daani edhaana vunde
Pola pola raika bhalegundi baalaa
Arre re re
Arre re re arre arre arre arre
Tikkaregi ekkinaavu komli
Alaka nulaka mancham
Tikkaregi ekkinaavu komli
Alaka nulaka mancham
Alasanda povanikku alatayelne
Agudu se yethuguna
Alasanda povanikku alatayelne
Agudu se yethuguna
Vachhaanantivo
Arre vachhaanantivo
Vachhaanantivo potaanantivo
Vagalu palukutaave
Kataminda vaiye alkalsilka
Bhalegundi baalaa
Daani edhaana vunde
Pola pola raika bhalegundi baalaa
Arre re re re re re
Suruku soopu surakattulisarke
Chinta ela baalaa
Suruku soopu surakattulisarke
Chinta ela baalaa
Kaara maina mudhikara maina
Mudhikara maina nee mooti rupulo
Bhalegundi baalaa
Nee alaka teeranu emi bharanamu
Ivvagunanu bhaamaa
Ennelainaa emanta nachhadu
Ennelainaa emanta nachhadu
Nuvvuleni chotaa
Ennelainaa emanta nachhadu
Nuvvuleni chotaa
Nuvvu pakkanunte
Nuvvu pakkanunte
Nuvvu pakkanunte inkemi vaddule
Chenta chevavaavaa
Inkanaina pattinchukuntanani
Maata ivvu maavaa
Turrumanta paikeyipoddi
Naa alaka chitikalona
Bhalegundi Baalaa Video
If You Find any mistake you can comment us below and also comment your thought about this song.#lyricworld