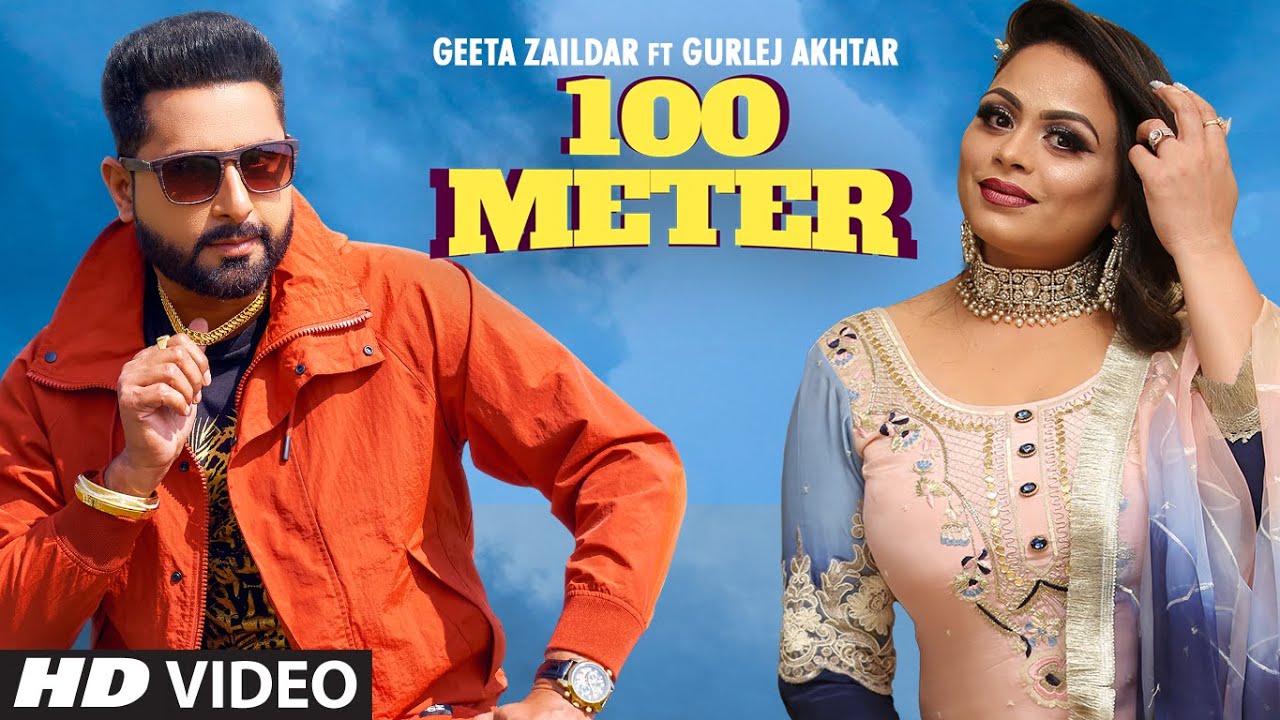 100 Meter Lyrics - Geeta Zaildar Full Song Lyrics: This is the latest H Song starring
Gurlej Akhtar.
This song is sung by
Geeta Zaildar Ft. Gurlej Akhtar
and the music of the song given by
Beat Minister
while the lyrics of the song written by
Geeta Zaildar.
This song released on
T-Series.
| | |
| --- | --- |
| Song Title : | 100 Meter |
| Singer : | Geeta Zaildar Ft. Gurlej Akhtar |
| Music : | Beat Minister |
| Lyrics : | Geeta Zaildar |
| Starring : | Gurlej Akhtar |
| Music Label : | T-Series |
Tere Warge Mehkan Lain Channel'an Meriyan Da Hawa De Bulleya Tu Ki Karu Mooqabla Haneriyan Da Ve Tere Warge Mehkan Lain Channel'an Meriyan Da Hawa De Bulleya Tu Ki Karu Mooqabla Haneriyan Da Assi Gali Cho Duja Gehda Kaddan Nahi Dinde Aiven Naa Ragedya Jayi 100 Meter Bhajan Nahi Dinde Aiven Naa Ragedya Jayi 100 Meter Bhajan Nahi Dinde Ho PB 37 Waleya Naal Kyun Pange Laini Ae Assi Kallakad Pendu Te Tu Shehar Ch Rehni Ae Ho PB 37 Waleya Naal Kyun Pange Laini Ae Assi Kallakad Pendu Te Tu Shehar Ch Rehni Ae Tera Kakh Ni Bachna Khe Ke Khama Naal Kudey Kyun Pauyen Wargi'ae Khaindi Firein Druma Naal Kudey Kyun Pauyen Wargi'ae Khaindi Firein Druma Naal Kudey Ve Tainu Tere Jattpune Ne Ik Din Laike Beh Jana Kaartoosa Da Patta Jo Bhareya Bhareya Hi Tera Reh Jana Oh Tainu Tere Jattpune Ne Ik Din Laike Beh Jana Haa Kaartoosa Da Patta Jo Bhareya Bhareya Hi Tera Reh Jana Ve Sadde Aale Dab Cho Pistol Kaddan Nahi Dinde Aiven Naa Ragedya Jayi 100 Meter Bhajan Nahi Dinde Aiven Naa Ragedya Jayi 100 Meter Bhajan Nahi Dinde Bohata Maan Karida Nahio Gali Kudey Sarkari Da Jatt Marji Da Malik Jithe Chahey Geda Marida Bohata Maan Karida Nahio Gali Kudey Sarkari Da Jatt Marji Da Malik Jithe Chahey Geda Marida Sher Dare Naa Kadey Vi Mangmiya Gunna Naal Kudey Kyun Pauyen Wargi'ae Khaindi Firein Druma Naal Kudey Kyun Pauyen Wargi'ae Khaindi Firein Druma Naal Kudey Unche Tibbe Nu Paani Chadh Da Kadey Kise To Suneya Te Aithe Challni Nahi Badmashi Galat Area Chuneya Te Ve Unche Tibbe Nu Pani Chadhda Kadey Kise To Suneya Te Aithe Challni Nahi Badmashi Galat Area Chenya Te Ve Kabe Badey Subaah De Banda Labban Nahi Dinde Aiven Naa Ragedya Jayi 100 Meter Bhajan Nahi Dinde Aiven Naa Ragedya Jayi 100 Meter Bhajan Nahi Dinde Oh Gayab Karan Diyan Gallan Chhadd De Jatt De Dere Door Kudey Sholay Aale Gabar Wangu Naam Saada Mashoor Kudey Oh Gayab Karan Diyan Gallan Chhadd De Jatt De Dere Door Kudey Sholay Aale Gabar Wangu Naam Sada Mashoor Kudey 4 Baje Tak Firing Chaldi Sun Kanna Naal Kudey Kyun Pauyen Wargi'ae Khaindi Firein Druma Naal Kudey Aiven Naa Ragedya Jayi 100 Meter Bhajan Nahi Dinde Kyun Pauyen Wargi'ae Khaindi Firein Druma Naal Kudey
100 Meter Video

If You Find any mistake you can comment us below and also comment your thought about this song.#lyricworld