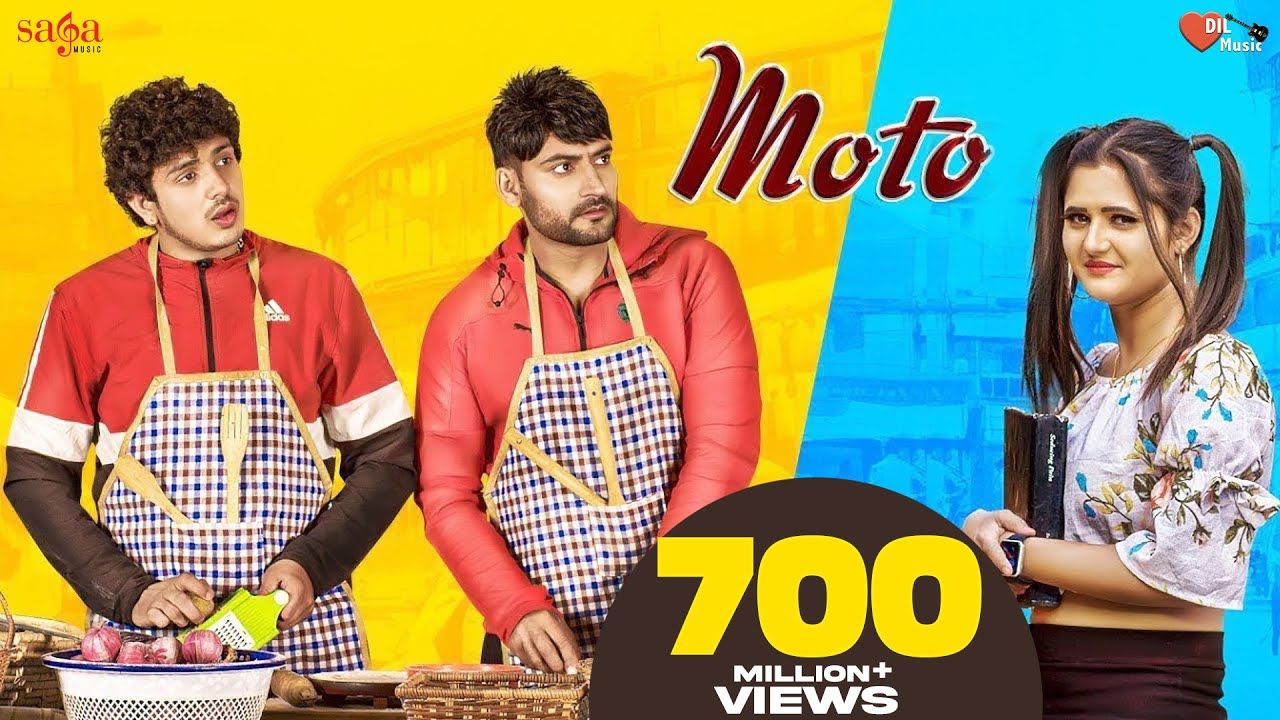 हाय रे मेरी मोटो Hay re meri moto lyrics Full Song Lyrics : This is the latest Haryanvi Song starring
Diler Kharkiya , Ajay Hooda & Anjali raghav.
The theme of the song is based on two friends who get there hearts on a single girl.This is basically comedy music Song.I don't want to spoil the fun the song so if you don't watch the song watch it now video is given below.
This Song "
Hay re meri moto
" is sing by Diler Kharkiya and the music of the song given by
Aman Jaji ( Mukesh Jaji )
while the lyrics of the song written by Ajay Hooda.This song is released on Saga Music.
| | |
| --- | --- |
| Song Title : | Hay re meri moto |
| Singer : | Diler Kharkiya |
| Music : | Aman Jaji ( Mukesh Jaji ) |
| Lyrics : | Ajay Hooda |
| Starring : | Diler Kharkiya , Ajay Hooda & Anjali raghav |
| Music Label : | Saga Music |
Tere suit ke re saare re colour bawali
Tere aage saari chhori sai blur bawali
Tere suit ke re saare re colour bawali
Tere aage saari chhori sai blur bawali
Tera back re front dono maare sai current
Manne dil mein laga li teri photo
Haye re meri moto
Haye re meri moto
Haye re meri moto
Haye re meri moto moto moto
Haye re meri moto
Outfit pehne tu kamaal chhori re
Jo dekh le na sove kayi saal chhori re
Outfit pehne tu kamaal chhori re
Jo dekh le na sove kayi saal chhori re
Kehvein mere re friend tanne karke ne land
Yo Ram ji ne kar leyo toto
Haye re meri moto
Haye re meri moto
Haye re meri moto
Haye re meri moto moto moto
Haye re meri moto
Hey moto
Moto ae sunn na
Moto
Ghadne mein Ram ji ne kasar nahi chhodi
Char chaand laave til on the re thodi
Tu ghadne mein Ram ne kasar nahi chhodi
Char chaand laave til on the re thodi
Haye re teri hassi gaal de phaasi
Manus ne kar de khoto
Haye re meri moto
Haye re meri moto
Haye re meri moto
Haye re meri moto moto moto
Haye re meri moto
Tere town aale chhore dene hone red rose
Main diamond ring gela karun propose
Tere town aale chhore dene hone red rose
Main diamond ring gela karun propose
Ajay Hooda bada bhai jeeki gaana mein chadhai
Diler Kharkiya re chhoto
Kisi kavi ne kya khoob likha hai
Uhki bahu kise taan pate koyna
Jiska balma power full
Chalein moto
Haye re meri moto
Haye re meri moto
Haye re meri moto
Haye re meri moto moto moto
Haye re meri moto
Music M J
Hay re meri moto Video