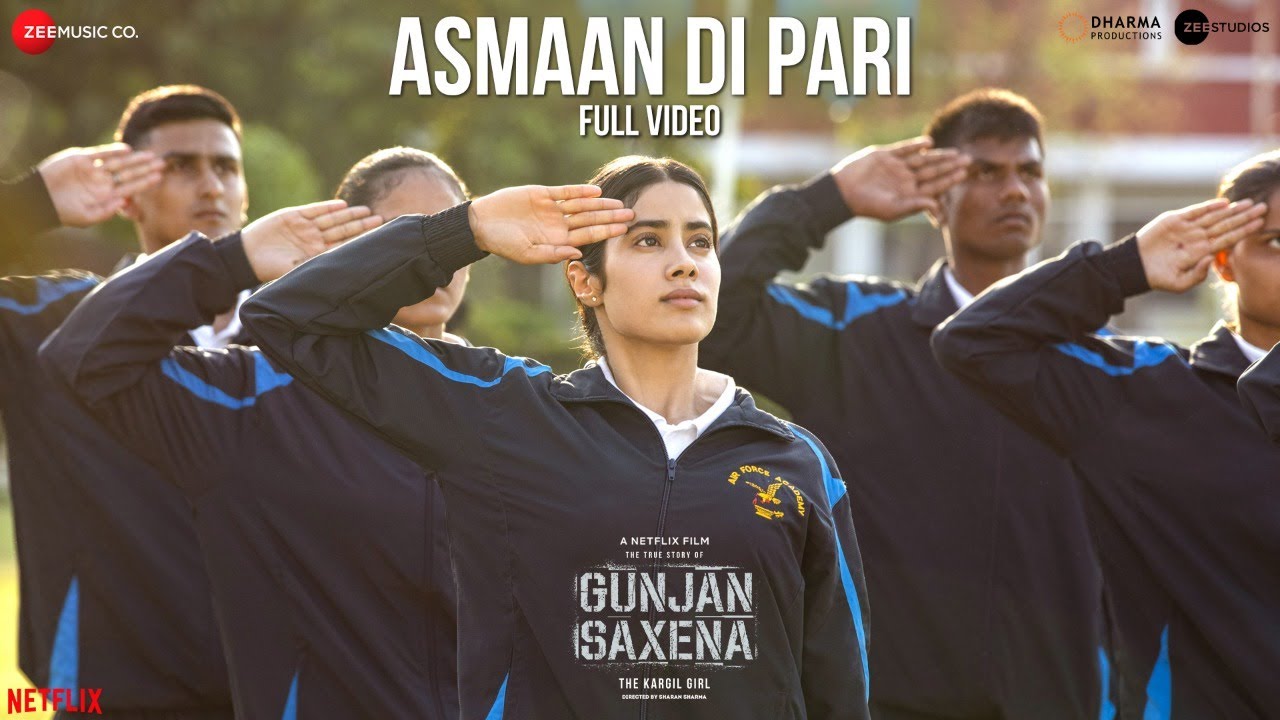 Asmaan Di Pari - Gunjan Saxena Full Song Lyrics: This is the latest Hindi Song starring
Janhvi Kapoor.
This song is sung by
Jyoti Nooran
and the music of the song given by
Amit Trivedi
while the lyrics of the song written by
Kausar Munir.
This song released on
Zee Music Company.
| | |
| --- | --- |
| Song Title : | Asmaan Di Pari |
| Singer : | Jyoti Nooran |
| Music : | Amit Trivedi |
| Lyrics : | Kausar Munir |
| Starring : | Janhvi Kapoor |
| Music Label : | Zee Music Company |
Khudi Ko Kar Bulland Itna
Ke Har Takdeer Se Pehle
Khuda Bande Se Khud Pooche
Bata Teri Raza Kya Hai
Ho Turja, Turja, Turja
Tu Na Darna Kabhi
Na Ghabarna Kabhi
Ho Leja Leja Leja
Tu Ukhaad Ke Zameen
Ho Phurja, Phurja, Phurja
Tu Na Rukna Kabhi
Tu Na Jhukna Kabhi
Jeele, Jeele, Jeele Apni Zindadi
Hoye Maar Chadappa
Hoye Chand Pe Chadh Ja
Ho Udd Ja, Udd Ja, Udd Ja, Udd Ja
Banke Asmaan Di Pari
Ho Udd Ja, Udd Ja, Udd Ja, Udd Ja
Banke Asmaan Di Pari
Khudi Ko Kar Bulland Itna
Ke Har Takdeer Se Pehle
Khuda Rukar Ye Khud Pooche
Bata Kya Chahiye Bande
Khudi Ko Kar Bulland Itna
Ke Har Takdeer Se Pehle
Khuda Rukar Ye Khud Pooche
Bata Kya Chahiye Bande
Ho Tod De Re Darwaje
Ho Jod De Re Sare Chajje
Ho Tod De Re Darwaje
Ho Jod De Re Sare Chajje
Ho Add Ja, Ladd Ja, Chadd Ja
Aaja Chakde Tu Kaach Ke Chatte
Ho Kaat De Re Tu Kanni
Ho Chhod De Re Tu Channi
Ho Add Ja, Ladd Ja, Chadd Ja
Aaja Chakde Tu Chand Ki Hadein
Ho Turja, Turja, Turja
Tu Na Thamna Kabhi
Tu Na Thakna Kabhi
Leja Leja Leja
Tu Pachhad Ke Zameen
Ho Phurja, Phurja, Phurja
Tu Na Mudan Kabhi
Na Palatna Kabhi
Karle, Karle, Karle Marzi Jo Teri
Hoye Maar Chadappa
Hoye Chand Pe Chadh Ja
Ho Udd Ja, Udd Ja, Udd Ja, Udd Ja
Banke Asmaan Di Pari
Ho Udd Ja, Udd Ja, Udd Ja, Udd Ja
Banke Asmaan Di Pari
Ho Udd Ja, Udd Ja, Udd Ja, Udd Ja
Ho Udd Ja, Udd Ja, Udd Ja, Udd Ja
Banke Asmaan Di Pari
Asmaan Di Pari
Khudi Ko Kar Bulland Itna
Ke Har Takdeer Se Pehle
Khuda Rukar Ye Khud Pooche
Bata Kya Chahiye Bande
Khudi Ko Kar Bulland Itna
Ke Har Takdeer Se Pehle
Khuda Rukar Ye Khud Pooche
Bata Kya Chahiye Bande
Asmaan Di Pari Video

If You Find any mistake you can comment us below and also comment your thought about this song.#lyricworld
---
Asmaan Di Pari - Gunjan Saxena Full Song Download